Weekend Recap 45 Veterans Day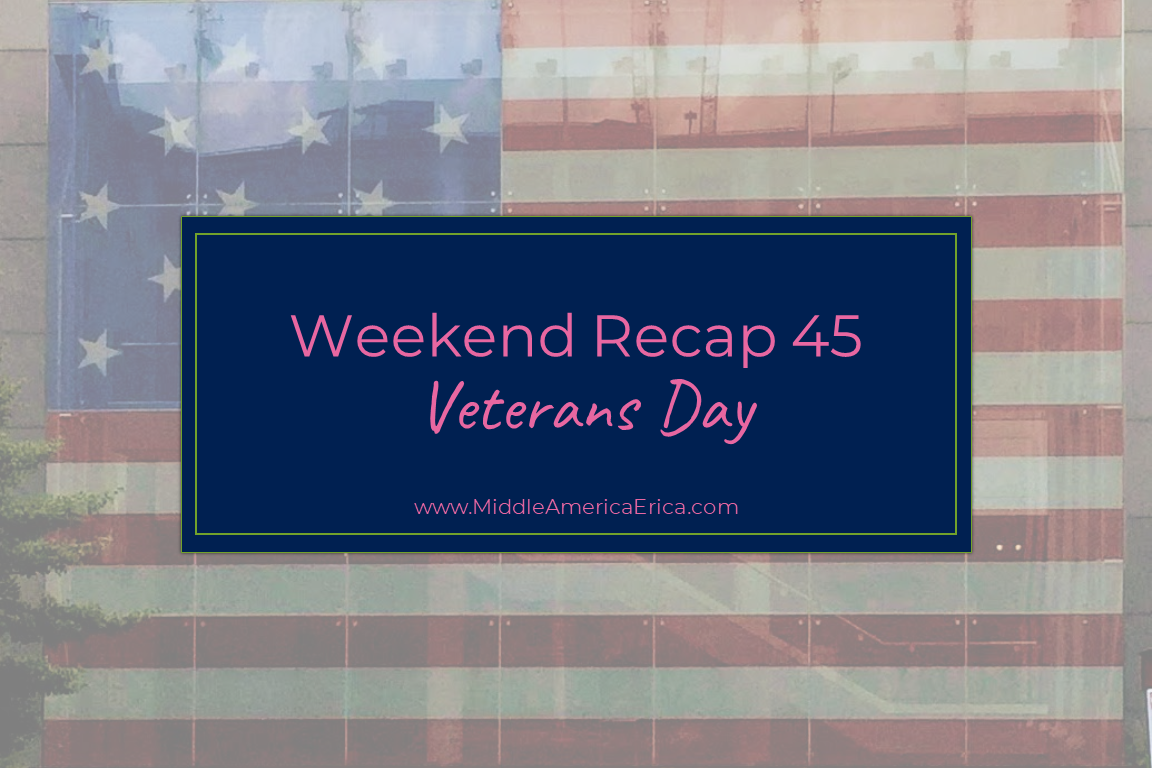 Overview – Long Weekend
This weekend was extra long because the kids had school conferences on Thursday. Our "weekend" was half of Thursday, all of Friday, Saturday, Sunday, and Monday because of Veterans Day. After last weekend of feeling kind of blah about the slow schedule, I wanted to make sure we had at least one interesting activity for each day.
Thursday – Book Fair and DIT Workshop
After picking the boys up from school, we headed to the School Book Fair – this year was an Arctic theme. From there we stopped by Panera to pick up lunch. In the afternoon the boys watched Baby's Day Out, which is a super old John Hughes movie. I hadn't seen it and watched part of it with them while I was making veggie lasagna. I honestly have never heard the boys laugh so hard at a movie. It reminded me of the slapstick humor of Home Alone. In the evening #1 and I met up with his baseball team for a mom/son evening at DIT Workshops. Super fun time where we made our own wall art.
Check out our new family sign below. Perfect for a family of six, right?
Friday – Science and Survivor
Even though we didn't have anything planned early in the day, I still got up and rowed right away. If I don't get a workout in when I wake up, I'm never confident I can fit it in when all four kids are home.
For his birthday earlier this year, #2 received a subscription to Little Passports Science Expeditions. Today he and his brothers worked on them. One experiment was a volcano and the other this cool pinball machine.
After #3 went to gymnastics (10 minutes late because he was crying and yelling he didn't want to go), we went to McDonald's play place for lunch and for the kids to run around a bit. I'm not sure if it was me or them, but by the end of our time there, I told them it was a mistake that we went. Not my best parenting moment, but it really felt like they weren't following simple directions. I was definitely frazzled by the time we left.
In the afternoon I met up with one of my teammates and planned our vendor event for later this month, a fundraiser at the kids' school.
In the evening we watched Survivor after Little Miss went to bed. If you've been following our Survivor updates, B lost another person this week AND it was who he thought would win the whole thing. So now he's down to only one person. The merge is scheduled for next week so hopefully his last person can fly under the radar for a bit.
Saturday – Kids Empire
At #3's request, we made pancakes for breakfast. Pancakes are totally his thing these days, he even ordered them for lunch at McDonald's the day before.
After our pancake breakfast, I walked on the treadmill before B took #2 to a travel baseball meeting. The season doesn't kick off for awhile, so this was the "meet and greet" for the team to get to know each other.
Saturday afternoon, I took #1, #2, and #3 to Kids Empire, an indoor active play place for kids. Even though I usually have mild anxiety with kids play places – the lights, the music, kids running everywhere (sensory overload, anyone?), this place was actually okay when we got there. Plus I think it helped that all three kids could play with each other, and I wasn't following a toddler around in a separate section. A few of our friends met us there so it was a treat to have some adult conversation while the kids played to their hearts' content. After we had been there for a couple of hours, the lights dimmed and some strobe lights came on and the music turned up – definitely my cue to pack us up and head home.
The movie of the evening was Surf's Up and B watched the Notre Dame football game on the ipad. For some reason the game was only on the ACC network, which we don't have so he had to come up with an alternative way to watch it.
Sunday – Wrigley Field and Errands
The morning was nice and leisurely, then we went to 9 am mass. B took all three boys to Wrigley Field Family day. It was a super fun time for all of them. They got to see the Chicago Cubs' locker room, roam around the field, and even play in some bouncy houses.
While they were out, Little Miss and I went to the local mall and did some returns. Most of the shopping I do is online because it's not a favorite activity of mine. I usually buy a variety of clothes and then return what doesn't work for us.
Since the boys didn't have school the next day, we had ANOTHER movie night. We continued the theme and watched Surf's Up 2.
Monday – Snow
Woke up this morning to a white blanket of snow. So, so, so thankful the kids don't have school this morning so they can play in it.
What I Am Excited About Now
This week is #1's birthday and my birthday so lots of celebrating. I'm excited to make a treasure hunt for the birthday boy and celebrate the start of his second decade!
Comment below and let me know – what are your favorite things to do with the kids when they have a long weekend or a day off from school?
---
---